Coupled Love Rechargeable Double-Ended Dildo
Code:

EV016

Weight:
Unique design
Double ended for couples play
Two motors (one in each shaft)
Gentle curve shape with textured tips for G-spot stimulation
10 Powerful functions
Silky smooth silicone
Central controls for ease of use
5 year warranty included
Place an order for £35.00 or more to get FREE UK DELIVERY! (Excludes sale items)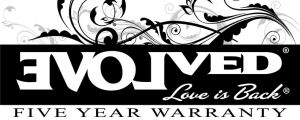 Detailed description
This unique double-ended dildo is perfect for couples play! Its shafts are luxuriously smooth and flexible on both ends, with gently curved and textured tips for G-spot stimulation. Use your imagination to find all the sexy pleasure zones this lengthy toy can reach with its two separate motors that cycle through 10 powerful functions. Stylish chrome finish outlines the easy-to-use controls in the center of the device. Clean up easily with Evolved Toy Cleaner and a warm water rinse.
- Double-sided dildo for couples pleasure
- Made from luxurious silicone
- Stylish chrome plating on plastic
- Flexible for easy maneuvering
- Textured ends for added stimulation
- Two powerful motors, one in each shaft
- 10 vibrations & functions
- Height: 35,6 cm, Depth: 5,7 cm, Width: 3,8 cm
- Weight: 270 gram
- Fully rechargeable, USB cable included
- Phthalate & latex free
All Evolved Products include a free 5 year warranty.
Length:

Widest Point:

Batteries:

Waterproof:

Material: